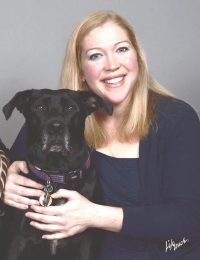 Veterinarian
Education: University of Pennsylvania
Dr. Molly Hosier is a long time South Jersey resident, growing up in West Deptford. She received a BS in Chemical and Biomedical Engineering from Carnegie Mellon University in Pittsburgh, PA. She worked as a product development scientist for Reckitt Benckiser for 6 years before having a change of heart and going back to veterinary school. She obtained her Veterinariae Medicinae Doctoris (VMD) from the University of Pennsylvania. While there, she acted as the Academic Liaison for her class, worked on a research project involving feral swine with the USDA, and had a 6-week externship with the CDC involving a meningitis outbreak in Chicago. Dr. Hosier joined the Cross Keys Animal Hospital in December 2019.
Dr. Hosier has a special interest in chickens and spent summers during veterinary school working with Dr. Sherrill Davison at the Pennsylvania Animal Diagnostic Laboratory System (PADLS), New Bolton Center. She is currently volunteering in an advisory role for the Haddon Township Hens Pilot Program. Her other interests include dermatology, nutrition, preventative medicine, and infectious diseases. Dr. Hosier is Fear-Free certified and plans to continue working towards stress-free exams for dogs and cats at the Cross Keys Animal Hospital.
When not at the hospital, Dr. Hosier enjoys singing in her church choir, baking, reading, and spending time with her fiancé, Marc. She is very close to her family who also reside in South Jersey. Dr. Hosier has a mixed breed rescued dog named Mya, and two rescued greyhounds, Daisy and Shafer that she loves and enjoys spending time with.